The Work Experience is where the Disney magic really shows. As a participant in either the World Showcase Fellowship Program or the Cultural Representative Program you will be working at Epcot, Disney's Discovery Park. Epcot is divided into two distinct areas - Future World in the North, and World Showcase in the South portion of this 400 acre park. Scattered around the World Showcase Lagoon are 11 fantastically detailed pavilion, each representing one of the participating nations: Mexico, Norway, China, Germany, Japan, the USA, Italy, Morocco, France, the UK, and Canada.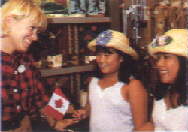 c Disney
The majority of participants in the WDWIP are in the Cultural Representative Program. You work in your country's pavilion, in Food and Beverage, Attractions, or Merchandise. Participants can only work in their national pavilion during their contract - no masquerading as a Norwegian to pick up! Many prefer working in food and beverage for the opportunity to be in a tipped position, which can be very lucrative in most cases. But merchandise and attractions hold some of the most enjoyable positions.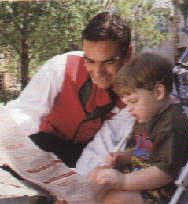 c Disney
The other option is the Fellowship Program. Although Disney will tell you it is a 'special' or 'exclusive' program, it really isn't - just different. Fellowshippers all arrive together, as opposed to the staggered arrivals of the Cultural Reps. You move through a rotation comprising working in your nation's pavilion, walking the promenade in roving gangs of fellow cast members, and often working in guest services or similar positions. The Fellowship Program also has a larger Learning Experience, with mandatory seminars.
Additional positions are available in Guest Relations, Resort Service, and Waterparks. The Waterparks program is exclusive to those who qualify (see, About the Program). The other positions are sometimes given to those who are enrolled in related studies or have past experience, but are not common.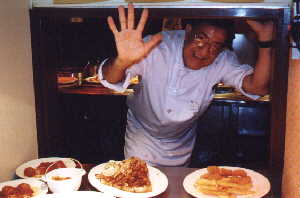 Working at Disney is certainly a different experience that anything you may have done in the past. Disney is known around the world for its high standards in all areas. Cast member appearance and behavior is one of the most important parts of the Disney experience. Yes, it's true men, that stubble will have to go, no earrings or neck chains, and your hair is simply too long. Women, that colored hair, nail polish, lipstick, big earrings, and multiple rings are a no no! But, it's not that tough to get used to The Disney Look. As for behavior, cast members are expected to be perfect 100% of the time, no less. Minimum acceptable guidelines for guest service have been set:
1. Make eye contact and smile
2. Greet and welcome each and every Guest
3. Seek out Guest contact
4. Provide immediate service recovery
5. Display appropriate body language at all times
6. Preserve the magical Guest experience
7. Thank each and every Guest
Trust me, those of us who were in the program still have these stuck in our minds.
So how much will I get paid for all this? Not much, really. At the present, Walt Disney World pays its cast members $5.95/hour, which is what WDWIP participants receive. Before the end of the year, that rate will be raised to around $6.20, but negotiations are still underway. If you happen to be in a tipped position, a whopping $2.50/hour is coming your way ($4.50 for bussers)! Rent is automatically deducted from your weekly paycheck, so between $65 and $85 of your cash is gone before you even see it. Most cast members making regular hourly wages take home just over $100/week, which is actually plenty. Overtime is paid at time and a half, and is plentiful around the busy holiday seasons.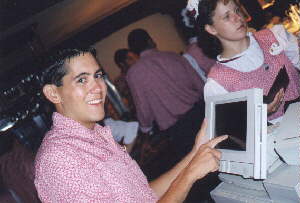 Note that some countries are exempt from paying income tax in the US (notably Canada, and Japan, I believe). Although it will be deducted from your check, you can file a claim to get it back in February. Watch this site early next year for detailed instructions on how to file for an income tax rebate.